Hydroseeding
Hydro seeding is a grass planting process that has been used on everything from highways to residential lawns. The process is fast, simple, economical, and efficient. The hydro seeding process starts by mixing cellulose fiber mulch, grass seed, fertilizer and water in a tank to be mixed and pumped by a machine. Once the mixture is fully blended it is then sprayed on the ground. The material in the resulting mat enhances the seed germinating process. It will stimulate the seeds to grow a healthy and deep root system and an even pattern of leaf stock.
Hydro seeding can be the fastest way to plant a lush, green lawn. It costs just slightly more than older methods of seeding and mulching (using straw) and is about one-third the cost of laying sod. Your lawn will be hydro seeded with a tested, high quality turf mix which is specially blended for this area. Unlike traditional straw mulch, which is loaded with weed seed, hydro seed mulch has no weed seeds. Your hydro seeded lawn will come up much faster than dry seed and there is no worry about whether it will "take" when sod is used.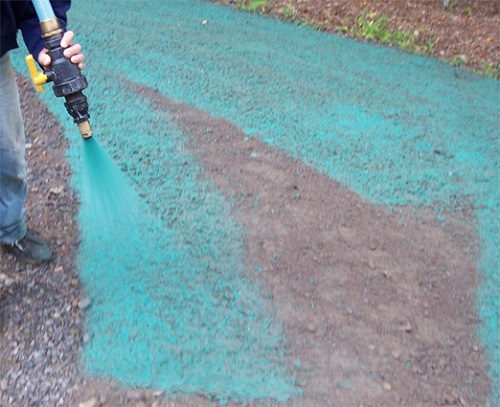 The seed is suspended in a nutrient rich slurry.
The contact of the seed with the water in the machine triggers the germination cycle.
The mulch layer seals in the moisture and holds the soil in place.
The seed is at an ideal depth for good results.
The conditions are right to produce a lush green lawn in a very short time.
A slurry is created by applying hydromulch, seed, fertilizer, tackifier, and water. The straw is eliminated. Hydro seeding mulch does not contain weed seed as straw does. It will not blow off and does not need to be removed. Hydro seeding has a neat green appearance that is far more attractive than straw. Unlike straw, it will not cause a loss of nitrogen as it decomposes. Hydro seeding will produce great results under a wider range of circumstances and get a higher percentage of seed to germinate. It is easy to understand why hydro seeding is becoming the method of choice for consumers and professionals alike.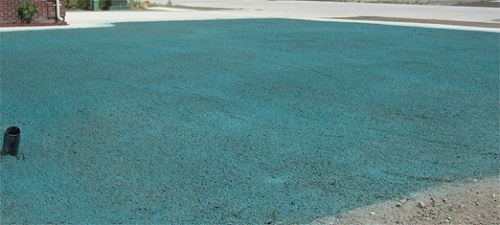 Spring - gives you a jump on a nice lush lawn for summer and fall. When the cool weather of fall arrives you will see a noticeable thickening of the newly seeded areas.
Summer - depending on your vacation schedule, the summer can be an excellent time to hydro seed. Make sure you water twice daily for 20 minutes each watering and you will have a nicely established and lush lawn in the fall when the nights start to get cooler.
Fall - gives you a nice lush lawn for the following spring. The lawn will be a little thin in the fall, but by next spring it will thicken up and fill in nicely. You will have a nicely established lawn the following spring.
Hydromulch success and pricing is in direct proportion to the quality and quantity of mulch material applied to the area. We have the experience to use the correct amount to control erosion and keep the soil where it belongs.